Matilda's Own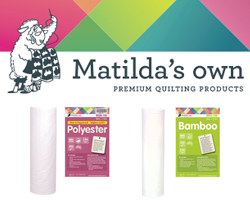 Matilda's own batting comes from Australia. It is made from the highest quality, and combines Australian materials and processes to produce a premium batting. Their organic bamboo is the most eco-friendly fibre they produce as it grows and regrows without the need for supplemental irrigation or insecticides. This fibre is 100% sustainable and all naturally grown. The bamboo also has natural anti-bacterial properties making it ideal for bedding products, and is arguably the softest wadding that Matilda's Own produces.
The below battings are usually available directly from our warehouse.
Most qualities also come in bags of 240 x 275 cm.
All bolts are shipped free of charge.
| Quality | Width | Article code | Bag |
| --- | --- | --- | --- |
| Bag Batting | 80 centimeters | M1000-80 | No |
| 100% Bamboo | 240 centimeters | M950-240 | Yes |
| 100% Polyester | 240 centimeters | M500-240 | Yes |
| 100% Wool | 240 centimeters | M300-240 | Yes |
| 60% Wool / 40% Polyester | 240 centimeters | M100-240 | Yes |
| 100% Cotton | 240 and 310 centimeters | M400-240 / 310 | Yes, but only the 240 cm |
| 80% Cotton – 20% Polyester | 240 and 310 centimeters | M800-240 / 310 | Yes, but only the 240 cm |
| 100% Organic cotton | 240 centimeters | OC400-240 | No |
Download the specifications of the batting here: