Matilda's Own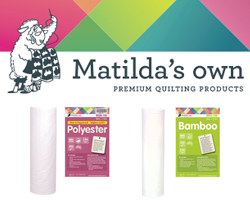 Matilda's own batting comes from Australia. It is made from the highest quality, and combines Australian materials and processes to produce a premium batting. Their organic Bamboo is the most eco-friendly fibre they produce as it grows without the need for supplemetal irrigation or insecticides. This fibre is 100% sustainable and all naturally grown. The Bamboo also has natural anti-bacterial properties making it ideal for bedding products, and is arguably the softest wadding that Matilda's Own produces.
The battings below are normally always in stock:
The most qualities are also available in bags from 240 x 275 cm.
Rolls will be shipped for free.
| Quality | Width | Article code | Bag |
| --- | --- | --- | --- |
| Bag Batting | 80 centimeter | M1000-80 | No |
| 100% Bamboo | 240 centimeter | M950-240 | Yes |
| 100% Polyester | 240 centimeter | M500-240 | Yes |
| 100% Wool | 240 centimeter | M300-240 | Yes |
| 60% Wool / 40% Polyester | 240 centimeter | M100-240 | Yes |
| 100% Cotton | 240 and 310 centimeter | M400-240 / 310 | Yes, only 240 cm width |
| 80% Cotton – 20% Polyester | 240 and 310 centimeter | M800-240 / 310 | Yes, only 240 cm width |
| 100% Organic cotton | 240 centimeter | OC400-240 | No |
Download below the specifications of the batting: